Alexandra Stan
The most honest press article about me
Photo gallery
Sunt in vizorul presei de prin 2009, cand am lansat primul meu single, "Lollipop". De atunci s-au scris multe si nevrute. Unii m-au laudat, au scris despre muzica mea, s-au mandrit cu faptul ca o artista duce numele Romaniei in toate colturile lumii, altii m-au criticat, s-a speculat mult, s-a inventat.
Dar de multe ori am observat ca presa din Romania si din afara nu incurajeaza artistii, ci sta cu lupa pe ei si asteapta orice chichita de la care sa faca tam-tam, sa faca din tantar armasar si sa puna artistul respectiv intr-o lumina proasta.
Presa judeca, face artistii sa para slabi si cred ca si de aici dorinta unor vedete de a isi posta si arata viata lor perfecta pe Instagram si Facebook, fara griji, fara probleme, cu make-up pus si cu multa ordine in jur.
Cert e ca zilele trecute am citit un articol despre mine care m-a facut sa imi recap increderea in presa de tabloid din Romania.
Un articol sincer, scris pe bune, fara ocolisuri, transant si cel mai mult m-a impresionat ca jurnalistul George Stanca a reusit sa ma vada exact asa cum sunt: un om normal care se bucura de plaja. Fara ascunzinsuri, fara perdele, fara filtrele social media. Eu, Alexandra Stan!
Ma bucur ca dezinvoltura mea l-a inspirat pe George Stanca sa scoata condeiul si sa scrie un text asa frumos despre mine. Asta ma determina sa fiu in continuare sincera, reala, si sa fac lucruri demne de asa texte.
Va invit sa cititi textul scris pentru Click!: "Am citit cu interes știrile din articolul dedicat ție de colega mea, privind starea trupului și sufletului tău; despre echilibrul cvasi perfect dintre ele, de-a dreptul ca-n Grecia antică … Am citit, zic. Și, apoi, am privit cu un nesaț de lup famelic pozele tare sexy cu tine. Mă grăbesc a conchide: ce păcat că nu mai am 30 de ani, măcar. Dar, percepțiile mele acum au rafinament. Judecățile mele au mai multă estetică decât erotism. Ele au sublimat din erotic, în estetic… nu de tot. Din hormonal în rațional. Deci, să ne-nțelegem, mă pot detașa, spre deosebire de alții, când te privesc așa.
Descrierea făcută trupului tău de către o colegă de-a mea pare de-a dreptul …masculină. Ca una făcută de un admirator vorace. Dincolo de cântec, știi ce-mi place la tine, și e un lucru pe care nici nu-l bănuiam? Dezinvoltura. Miserupismul detașat de fițele obișnuite ale vedetelor ce se vor musai dive și nu sunt… Oricare și de oriunde ar fie ele. Nu te ascunzi. Asta ești. "Iată fetelor, sânii, uite fundul, uite și colăceii, să nu mă credeți perfectă… Perfectă poate fi vocea mea, cu talentul deopotrivă…"
Bravo! Fără fițe. Ai priceput sau așa ești dintotdeauna, că sinceritatea e o armă fabuloasă de a cuceri o bătălie. Cu publicul. Cu oamenii. Cu băieții și fetele care te iau de model. Care te admiră. Cu masculoizii, cu junii care te adoră și noaptea sub acoperirea faldurilor de mătase ale carceafurilor. Cu fetele încă fragede și umede ca zmeura după ploaie, care te fură la gestică și îmbrăcămite, la ticuri și la replici… Bravo, Alexandra! Din victima unui barbar, ce erai ca imagine acum ceva timp, vânătă ca o mască de carnaval grotesc, acum ești o învingătoare. Nu că a vrut Click! să te aranjeze. Ci, uite-așa: Fără fițe, fără farduri, fără disimulări gazoase, fără ifose și damfuri… Reeepet: ești directă! Ce bou a fost animalul care te-a avut în mână! Ce naivă ai fost! Se credea stăpân de sclavi pe plantații? Acum, prin această ieșire deloc paparazzată, zău, ți se devoalează ce ai tu cel mai de preț. Nu trupul suav, nu sânii ca doi pui de cerb, nici rotunjimile dorsale sinusoidale, curbe mistice lunecoase și abrupte, nu! Sinceritatea!
Ești o mașinărie de pleziruri - cântec, armonie, farmec - pentru loaziruri… Bucuri omul. Ești cvasi-perfectă. Zic "cvasi", fiindcă doar Pronia e perfectă. Dar, tu ești! Exiști. Ești "a fi!". A cânta. A încânta. A străluci. Uite, vezi? Ăsta e cusurul tău! Ești prea concretă. Încearcă să rămâi așa. Ca și cum ai ține aerul în plămâni scufundată în apa mării. Când vei ieși de-acolo ca o crăiasă, fii tot aceeași, Alexandra. Tu!" – George Stanca.
Va multumesc, domnule George Stanca pentru faptul ca nu ati scris un articol pentru a strange like-uri si pentru a fi cat mai shareuit! Apreciez mult!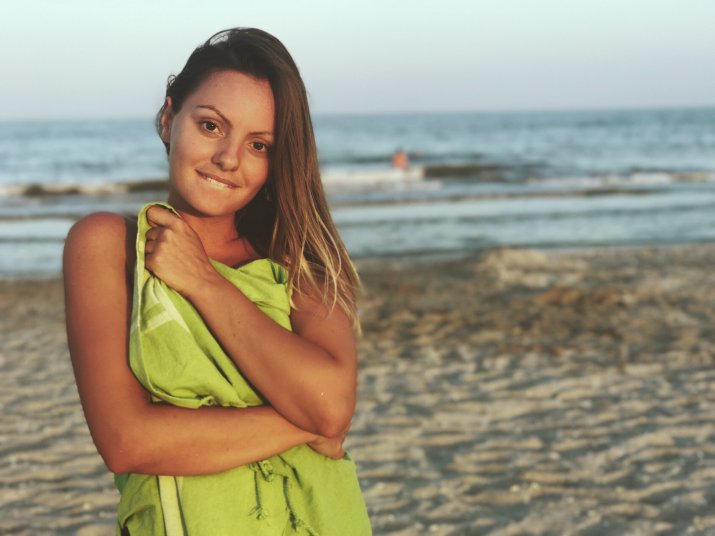 English version
The press has been watching me since 2009, when I released my first single, "Lollipop". Since then, many things have been written, some of them true and other just invented. Some people have praised me, wrote about my music, they were proud of the fact that an artist leads the name of Romania in all corners of the world, others criticized me, made a lot of speculation. But I have often noticed that the press in Romania and abroad does not encourage the artists, but they sit with their magnifying glass and wait for any little thing from which to make a buzz, to make a mountain out of a molehill and to put the artist in a bad light.
The press judges, makes artists look weak, I think that from here comes the stars wish to post and show their perfect life on Instagram and on Facebook, worry-free, with no problems, with makeup on and a lot of discipline around. The last days I read an article about me which made me regain my trust in the Romanian tabloid press. Honest, real article, point blank, trenchant and I have been impressed the most by the fact that the journalist George Stanca managed to see me just as I am: an ordinary person enjoying the beach. No hiding, no curtains, no social media filters. I, Alexandra Stan! I'm glad my directness had inspired George Stanca to take the pen and write such a beautiful text about me. That makes me continue to be honest, real, and do things worthy of such articles.
I invite you to read the text written for Click!: "I read with interest the news from the article dedicated to you by my colleague, regarding the state of your body and soul; About the quasi-perfect balance between them, no less than it was in the ancient Greece ... I read this is what I'm saying. And then, I looked at those very sexy pictures of you with the appetite of a wolf. I hurry to conclude: what a pity I'm not 30, or less. But now my perceptions have refinement. My judgments have more aesthetic than eroticism. They sublimated from erotic, in aesthetic ... not totally. From hormonal to rational. So, let's make it clear, I can detach myself, unlike others, when I look at you like this. The description of your body made by a colleague of mine seems to me such ... masculine. As one made by a voracious admirer. Beside the music, do you know what I like about you, and it's one thing I did not even suspect? The ease. The carelessness detached from the usual caprices of stars who, no matter what, want to be the divas they aren't ... Anywhere and wherever they are. You don't hide. That's you. "Girls, look, the breasts, the butt, the curves, do not believe I'm perfect ... Perfect can be my voice, and both my talent..." Good job! No extra requirements. You got it, or this is how you have always been, that honesty is a fabulous weapon to conquer a battle. With the audience. With people. With boys and girls who take you as a model. Who admired you. With men, with the young boys who adore you even in the night under the silk folds of the sheets. With the still young and wet like raspberries after the rain girls, who steals your gesture and your way to dress, tics and replies ...
Bravo, Alexandra! From a barbarian's victim, which you were some time ago, bruised like a grotesque carnival mask, you are now a winner. Not because of Click! wanted to manage that for you. But, just like this: No extra star requirements, no makeup, no airy dissimulations, no star airs and no whiffs ... And I repeat: You're straight! What a blockhead was the animal that had you in his hand! So naive you were! Was he supposed to be a slave master on the plantations? Now, through this no-paparazzi output, it's the disclosure of what you have the most precious. Not the suave body, not the breasts like two little deer, nor the sinusoidal dorsal rounds, the mystical, mysterious and sharp curves, no! The honesty! You're a pleasures machine - song, harmony, charm - for delights ... You entertain the human. You are quasi-perfect. I say "quasi", because only Providence is perfect. But you are here! You exist. You are "to be!". To sing. To delight. To shine. Look, you see? That's your fault! You're too concrete. Try to stay this way. As if keeping the air in the lungs sunk in the sea. When you get out of there like a little lady, be the same, Alexandra. You!"- George Stanca.
Thank you, Mr. George Stanca, for not have written an article to get as many likes and shares! I appreciate a lot!
Article source: Click! ​